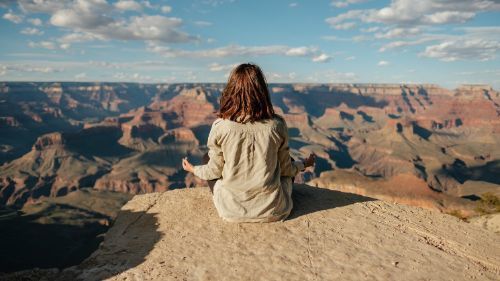 When it comes to the word "healthy," there are many different meanings. Some focus on "an apple a day keeps the doctor away" or other physical health benefits. However, to lead a fulfilled life, being healthy is about much more than just the physical. It involves your mental well-being, too. 
One way to put your mental health first is to take a few moments for guided meditation and thoughtful reflection every day. Studies show that this can help reduce stress and help you live your best life. If you're ready to get started, let's dive in! Check out the below tips and tricks to get started on your journey toward total health and well-being through meditation.
Start Small
You're busy. Whether it's a crazy work-life, parent-life or a host of other day-to-day tasks, there is never enough time. Luckily, getting started with meditation can be as simple as devoting 5 to 10 minutes per day. Then, if you decide you love the health benefits and the mental clarity, you can continue to incrementally increase your devoted meditation time. Set a timer on your phone to remind yourself each day when it's time to put in your meditation minutes. 
Find an App to Guide You
Long gone are the days where you needed to find an in-person guide to help you with meditation. We're living in the 21st century, which means ample technology is available to help you get started. From apps to online videos, there are plenty of ways to get zen from the comfort of your own home. A quick search online will return a list of free or inexpensive ideas to kickstart your journey. Some apps and tools that can help you get started include: 
Headspace App
Calm App
MyLife App
Meditation Studio App
Youtube Videos
Online Classes
Discover Endless Benefits
Sure, meditation is a great way to calm your mind and thoughts. However, it's also the source of a multitude of other health benefits. Thoughtful reflection has been proven to help reduce stress and anxiety, create a heightened sense of self-awareness and reduce negative emotional responses. When you're feeling your best, you're also more likely to do good in the world. That's right—taking time to focus on yourself can actually benefit others! You'll feel refreshed and ready to show the world your kindness. 
Now that you know something as simple as five minutes of your day can produce so many positives in the world, it's time to put your meditation into practice. Take advantage of online and free resources to help you get started. It can also be helpful to involve a friend who can check in and keep you accountable. Remember, it's just five minutes of your time for endless health benefits for you and others.