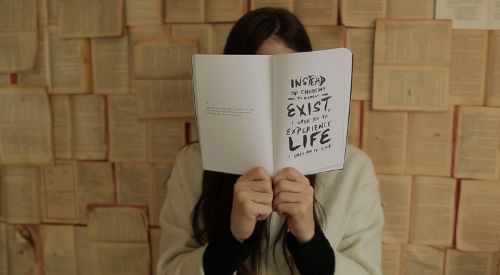 Inspirational quotes tap into different emotions of a person's life, whether it's happiness, sadness, excitement or discouragement. They can drive us to work harder, imagine more, inspire others and create our own success. While some may not directly speak to our own lives, they play a significant role in encouraging a positive lifestyle.
Ready to discover some inspiration? Check out these 15 quotes that will help impact and motivate you.
"Success is most often achieved by those who don't know that failure is inevitable." —Coco Chanel
 
"Things work out best for those who make the best of how things work." —John Wooden
 
"Learn from yesterday, live for today, hope for tomorrow. The important thing is not to stop questioning." —Albert Einstein
 
"Sometimes you can't see yourself clearly until you see yourself through the eyes of others." —Ellen DeGeneres
 
"All our dreams can come true if we have the courage to pursue them." —Walt Disney
 
"Don't cry because it's over, smile because it happened." —Dr. Seuss
 
"You only live once, but if you do it right, once is enough." —Mae West
 
"The best and most beautiful things in the world cannot be seen or touched—they must be felt with the heart." —Helen Keller
 
"Great minds discuss ideas; average minds discuss events; small minds discuss people." —Eleanor Roosevelt
 
"There are two types of people who will tell you that you cannot make a difference in this world: those who are afraid to try and those who are afraid you will succeed." —Ray Goforth
 
"Don't limit yourself. Many people limit themselves to what they think they can do. You can go as far as your mind lets you. What you believe, remember, you can achieve." —Mary Kay Ash
 
"As you grow older, you will discover that you have two hands, one for helping yourself, the other for helping others." —Audrey Hepburn
 
"Only put off until tomorrow what you are willing to die having left undone." —Pablo Picasso
 
"Your work is going to fill a large part of your life, and the only way to be truly satisfied is to do what you believe is great work. And the only way to do great work is to love what you do. If you haven't found it yet, keep looking. Don't settle. As with all matters of the heart, you'll know when you find it." —Steve Jobs
 
"Many of life's failures are people who did not realize how close they were to success when they gave up." —Thomas A. Edison
Motivational quotes inspire us to do more, be more and become more of who we are. Each and every one of us can make an impact or difference in this world and leave it better than when we came. You have the power to inspire, make a difference and truly live a positive and altruistic lifestyle.